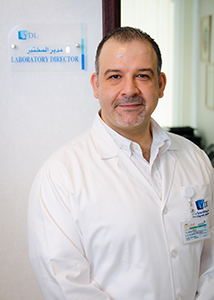 Dr. M. Jay Al Khatib
Co-Founder, Laboratory Director
Ph.D in Medical Microbiology, Medical School, Liverpool University, United Kingdom
Co-Founder and Laboratory Director of York Diagnostic Laboratories, JLT. Dr. Jay is a vibrant leader, mentor, and expert team player in laboratory field. He is a member of both Task Force and Technical Advisory Committee (TAC) for Dubai Accreditation Department. Having a vast experience in world-class research and diagnostic laboratories as well as passion for quality, YDL is his second lead operation in the UAE to be awarded international accreditation in a record time.
In his international multi-professional career, Dr. Al Khatib has earned his doctorate degree from the Medical School at Liverpool University, UK, during which he was trained at the Royal Hospital of Liverpool Diagnostic Laboratories. He joined Texas A&M University, Texas, USA for post-doctor fellow. Also, he worked in one of the top 10 companies of life sciences in Canada where it earned grants from the National Research Council (NRC) in order to develop novel molecular diagnostic tools. He was the team leader for developing genomics and proteomics isolation technologies for clinical diagnostic purposes, for which patents are registered in the US and Canadian patent offices. Also, he earned marketing as well as Operation Management credentials from Niagara College, Ontario, Canada.
He moved on to take a very successful position as Marketing and Business Development Manager, where he was the key leader to sign the largest deal in the company's history with US based Global company to OEM, the newly developed products. In year 2006, Dr. Jay moved from Canada to Dubai and joined a leading private laboratory becoming the Laboratory Director where he contributed excellent performance and brought up the name of the company achieving accreditation from JCI and ISO 15189. And also, he has acquired various awards and appreciation from different health care sectors.
Awards, Achievements & Participation
Certified Internal Auditor for ISO 15189: 2007 for medical Laboratories by the Dubai Accreditation Department in September 2012
Training program for Atomic Absorption Spectroscopy, Queensland University of Technology, Australia 2012
Medical laboratory Diagnostics Training with emphasis on immunofluorescence, Lubeck, Germany 2011.
Achieved both accreditations by Joint Commission International (JCI, USA) and ISO 15189 Medical Laboratories standard in 2009.
Selected as a representative for Medical laboratories sector in the Dubai Accreditation Department's Technical Advisory Committee (TAC).
Received an appreciation Award on the World Accreditation Day from DAC for the contribution to the Technical Committee at the Dubai Accreditation department.
Selected by Dubai Accreditation Department (DAC), Dubai Government, as a member of the Task Force for Medical Laboratories revising the accreditation standards for Medical Laboratories and contribute to the streamlining of the accreditation processes for medical laboratories.
Recognized by Joint Commission International October 2010 for participation in the Annual executive Briefing in Dubai and having my Laboratory site as an exemplary site for the physical site visit by the attendees of the annual executive briefing.
Presented a talk about the patient safety during the 2010 JCI annual executive briefing in Dubai 2010.
Awarded the Quality award by his corporate in 2009.
Awarded the corporate Achievement Award in 2010.
Participated in various Live Radio talk shows discussing the Food Intolerance and lifestyle issues.
Attended as a delegate the Arab Health Conference in Dubai 2007, 2008, 2009, 2010, 2011 & 2012.